| | | |
| --- | --- | --- |
| Castledawson WW1 Memorial - Panel 1 | | |
No
Mem Ref
Service No
Rank
Name
Regiment / Service
Battalion
Date Of Death
1
01-A
6952
Pte.
Anderson, John
Australian Infantry
8th Battalion
01/08/1918
2
01-B
23990
L/Corp
Martin, Thomas John
Royal Inniskilling Fusiliers
12th Battalion
23/07/1915
3
02-A
15292
Pte.
Anderson, William James
Royal Inniskilling Fusiliers
10th Battalion
12/08/1917
4
02-B
9197
Pte.
McAnary M.M, Matthew James
Royal Inniskilling Fusiliers
1st Battalion
30/11/1917
5
03-A
6270
Pte.
Bell, George Reilly
Irish Guards
2nd Battalion
21/01/1918
6
03-B
29313
Pte.
McClelland, Robert
Royal Inniskilling Fusiliers
9th Battalion
07/06/1917
7
04-A
19860
Pte.
Campbell, Samuel J
Royal Inniskilling Fusiliers
10th Battalion
02/01/1917
8
04-B
27419
Pte.
McCracken, George
Royal Inniskilling Fusiliers
9th Battalion
19/09/1918
9
05-A
Mr
Connery (WW1), T
Unknown
10
05-B
17220
Pte.
McCool, William
Highland Light Infantry
2nd Battalion
28/04/1917
11
06-A
Corp
Dawson, Samuel J
US Army
34th Infantry Regiment
22/10/1918
12
06-B
17273
2nd Corp
McIlroy, William
Royal Engineers
13th Base Park Coy
20/07/1915
13
07-A
14860
Pte.
Dawson, Samuel
Royal Inniskilling Fusiliers
11th Battalion
01/07/1916
14
07-B
3105197
Pte.
McIntyre, Robert
Canadian Infantry
102nd Battalion
27/09/1918
15
08-A
19472
L/Corp
Ellis, Samuel
Royal Irish Fusiliers
11th Battalion
01/07/1916
16
08-B
23/2247
R/man
McKee, Thomas
New Zealand Rifle Brigade
1st Battalion
07/06/1917
17
09-A
15/11924
R/man
Ellis, William
Royal Irish Rifles
15th Battalion
31/01/1916
18
09-B
15431
R/man
McKelvey, Adam
Royal Irish Rifles
8th Battalion
15/12/1917
19
10-A
Civilian
Fulton, John
Civilian - British
11/04/1915
20
10-B
27940
Pte.
McKendry, James
Royal Inniskilling Fusiliers
9th Battalion
16/08/1917
21
11-A
Lieut
Garvin, Samuel
Royal Welsh Fusiliers
9th Battalion
27/03/1917
22
11-B
2nd Lieut
McKnight, Tom
Royal Inniskilling Fusiliers
10th Battalion
21/02/1917
23
12-A
23431
Pte.
Hammond, John
Royal Inniskilling Fusiliers
10th Battalion
01/07/1916
24
12-B
23895
Pte.
McQuillan, Thomas
Royal Inniskilling Fusiliers
11th Battalion
01/07/1916
25
13-A
29108
L/Corp
Hammond, William James
Royal Inniskilling Fusiliers
11th Battalion
12/09/1917
26
13-B
24273
Pte.
Moore, Henderson
Royal Inniskilling Fusiliers
10th Battalion
10/03/1916
27
14-A
15589
Pte.
Harte M.M., John Jack
Royal Inniskilling Fusiliers
2nd Battalion
22/03/1918
28
14-B
41353
Pte.
Park, Robert
Royal Irish Fusiliers
9th Battalion
19/04/1918
29
15-A
20342
Pte.
Houston, Frederick
Royal Irish Fusiliers
9th Battalion
01/07/1916
30
15-B
681645
Pte.
Park, William John
Canadian Infantry
58th Battalion
26/10/1917
31
16-A
Mr
Hudson (WW1), William
Unknown
32
16-B
9351
Sgt.
Patterson, Alexander Hanna
Canadian Infantry
1st Battalion
23/05/1915
33
17-A
18980
Pte.
Hudson, Francis
Royal Inniskilling Fusiliers
2nd Battalion
16/05/1915
34
17-B
18972
Pte.
Russell, Alexander
Royal Inniskilling Fusiliers
1st Battalion
22/03/1918
35
18-A
38780
Pte.
Hunter, John
Royal Scots
15th Battalion
22/10/1917
36
18-B
15997
L/Corp
Shanks M.M., William
Royal Inniskilling Fusiliers
2nd Battalion
21/03/1918
37
19-A
9214
Pte.
Irwin M.M., Robert
Royal Inniskilling Fusiliers
1st Battalion
01/07/1916
38
19-B
Maj
Oliver-Thompson, John Herbert
Machine Gun Corps
40th Company
21/03/1918
39
20-A
43497
Pte.
Johnstone, John
Cameronians (Scottish Rifles)
9th Battalion
02/06/1917
40
20-B
12291
Pte.
Watterson, George
Highland Light Infantry
10th Battalion
12/08/1916
41
21-A
18090
L/Corp
Lennox, Francis John
Royal Irish Rifles
11th Battalion
01/07/1916
42
21-B
19892
Pte.
Watterson, Marshall
Highland Light Infantry
12th Battalion
25/09/1915
43
22-A
192691
Pte.
Leslie, Robert John
Canadian Infantry
15th Battalion
29/03/1917
44
22-B
Mr
Wilson (WW1), Robert
Unknown
45
23-A
Mr
Leslie (WW1), T
Unknown
46
23-A
8/3437
Pte.
Wilson, Robert Hugh
Otago Regiment
1st Battalion
27/09/1916
47
24-A
24954
Pte.
Leslie, William
Royal Irish Fusiliers
9th Battalion
16/08/1917
48
24-B
23567
Pte.
Woodend, Thomas James
Royal Inniskilling Fusiliers
10th Battalion
30/09/1916
49
25-A
6543
Pte.
Mann, Leslie Ellis
Australian Infantry
1st Battalion
03/10/1917
50
25-B
19482
R/man
Ewart, Henry
Royal Irish Rifles
11th Battalion
10/11/1916
| | |
| --- | --- |
| Town : | Castledawson |
| Latitude : | 54.778009 |
| Lontitude : | -6.557603 |
| Date Unveiled : | 19/06/1994 |

Castledawson War Memorial is located along the Main Street in Castledawson at the junction with Station Road, in Bell Park.


View Full Screen in Google Maps
Castledawson War Memorial is located along the Main Street in Castledawson at the junction with Station Road, in Bell Park.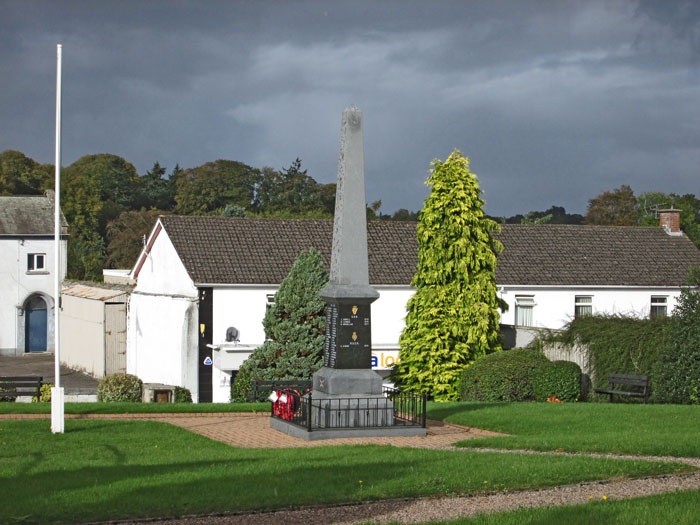 Pre-Memorial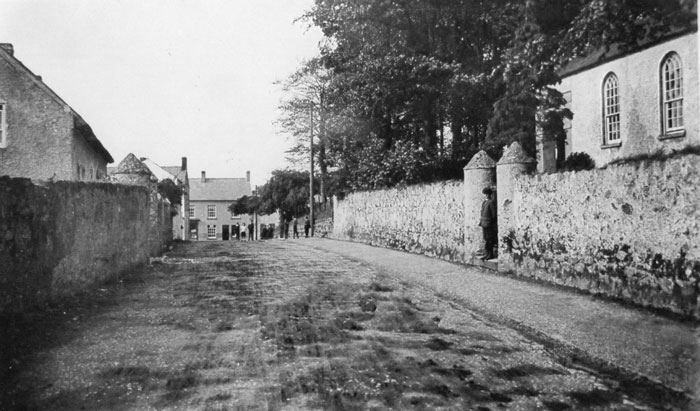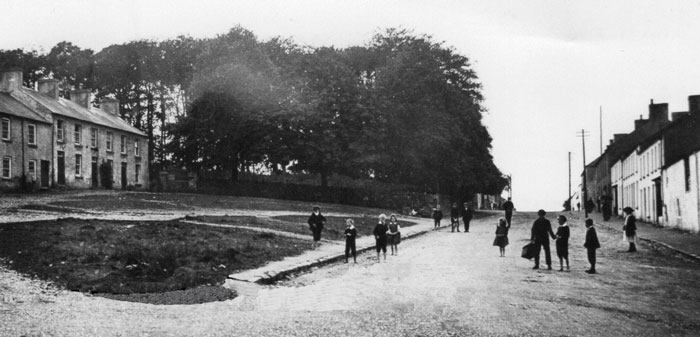 Memorial Design and Construction
The Castledawson obelisk was sculpted by Watterson's Monumental Sculptors in 1994.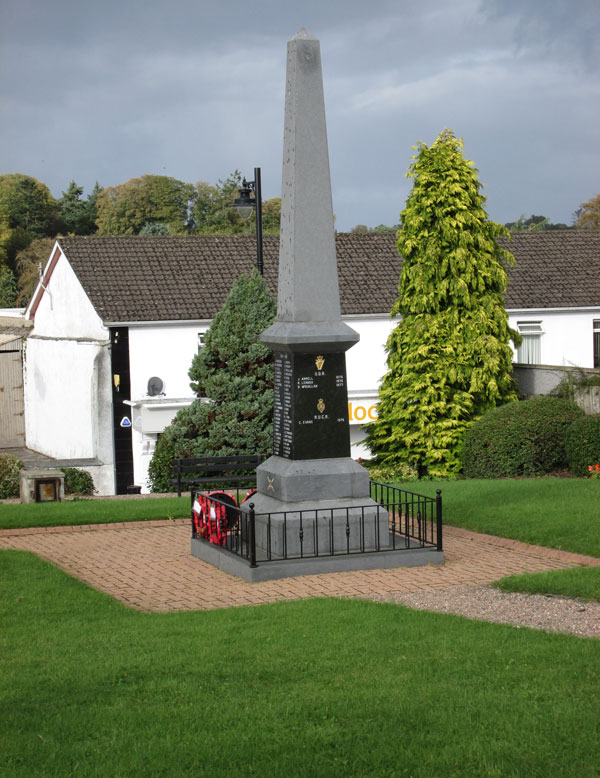 The memorial is a black granite obelisk which has inscriptions incised and painted silver/white. The obelisk rises from a two-tiered square plinth with chamfered upper edges, itself resting on a single square base. The whole is of granite and is bounded by paving. All faces of the polished black portion of the obelisk are inscribed.
On the memorial are the names of those who have given their lives in two world wars and other conflicts.
The inscription on it reads: 'This memorial is dedicated to the gallant members of H.M. Forces from this district who made the supreme sacrifice in two world wars and subsequent conflicts.
Memorial Dedication
Castledawson War Memorial was dedicated on Sunday 19th June 1994 at 15.30 hrs. It was unveiled by World War One veteran Leslie Bell. Five members of the Bell family served during the war, one making the supreme sacrifice.
It was unveiled during a Service of Dedication on Sunday 19th June 1994. The Service was conducted by the Reverend F. Munce and Reverend Doctor A. R. Rogers. Readings were by the Reverend Father O'Byrne and the Royal British Legion Area President, Colonel Sir Denis Faulkner, CBE VRD DL. The unveiling was performed by Mr Leslie Bell, a veteran of the First World War. The Petition to dedicate was made by the Chairman of the Magherafelt District Council. In response, the act of Dedication was undertaken by the Reverend R. Stewart. The Act of Remembrance was by Lord Moyola. The Last Post was then sounded, followed by a two minutes silence that was ended by the Reveille. There then followed a Lament of the Flowers of the Forest during which wreaths were laid by the Chairman of the Magherafelt District Council; the Northern Ireland Area Chairman of the Royal British Legion, Mr J. P. Thompson; and the President of the Castledawson & District Branch of the Royal British Legion. During the Service the following hymns were sung; 'O God our help in ages past', 'O valiant hearts' and 'Supreme Sacrifice'. The Service concluded with the playing of the National Anthem.
The Dedication Order of Service from the day can be viewed as PDF below, courtesy of Sam Hudson and Magherafelt British Legion.)
Recent Times
In 2010, a grant of £300 was offered through the Small Grants Scheme of the War Memorials Trust towards the addition of names missing from the memorial. The names of thirty-two people were found to have been omitted following research undertaken by the Castledawson Branch of the Royal British Legion that culminated in their book, 'They Didn't Come Home'. Following cleaning with low-pressure water and non-metallic brushes there was space on one of the faces of the memorial for the missing names to be added in-keeping with the existing inscriptions; twenty-six from the First World War and six from World War Two. Most of the names on this face were added as part of the project by RBL Castledawson Branch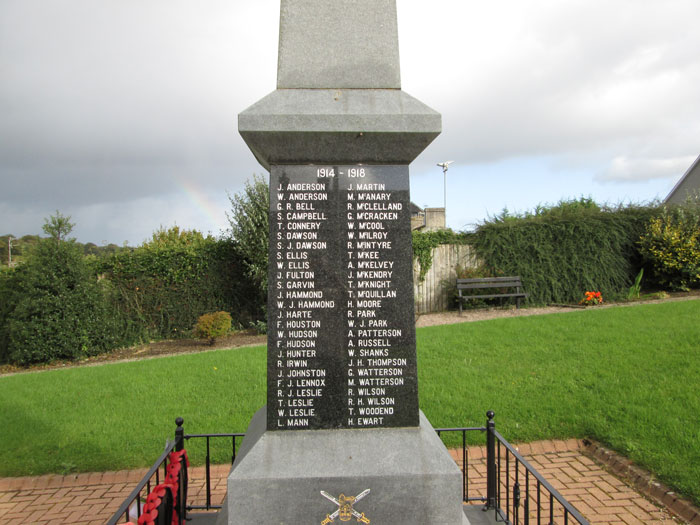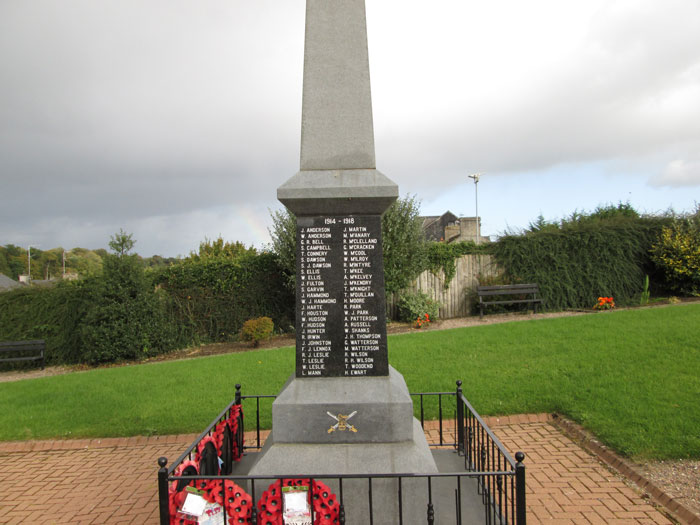 Memorial References and Links