Chief Engineer Frederick William Forbes
| | |
| --- | --- |
| Regiment/Service: | S.S. Myrtle Branch (Sunderland), Mercantile Marine (- Merchant Navy) |
| Died: | 11/04/1918 (Died at Sea) |
| Age: | 38 |

Frederick William Forbes was the son of James and Anne Forbes. He was born about 1880 in at North Shields, Tyne and Wear. During the war, Frederick William Forbes was Chief Engineer on the Mercantile Marine steam cargo ship, S.S. Myrtle Branch (Sunderland). Myrtle Branch was a 3,741 GRT steam cargo ship. The Maple Branch was captured by the German cruiser Karlsruhe in the Atlantic in September 1914 and he spent seven weeks as a prisoner of war. Myrtle Branch was sunk on 11th April 1918 by a torpedo approximately nine nautical miles north of Inistrahull, County Donegal. Chief Engineer Frederick William Forbes, Mercantile Marine, died at sea on 11th April 1918. He was 38 years old.
Frederick William Forbes was the son of James and Anne Forbes. He was born about 1880 in at North Shields. North Shields is a town on the north bank of the River Tyne, in the metropolitan borough of North Tyneside, Tyne and Wear in North East England.
During the war, Frederick William Forbes was Chief Engineer on the steam cargo ship, S.S. Myrtle Branch (Sunderland).
Myrtle Branch was a 3,741 GRT steam cargo ship completed in 1899 by J L Thompson & Sons Ltd for Hine Bros as Isel Holme. From 1907 she was owned by Nautilus Steam Shipping Co Ltd and managed by F & W Ritson.
Reports from the 'Mid-Ulster Mail' (November 1914) describe his experiences when the Maple Branch was captured by the German cruiser Karlsruhe in the Atlantic on 3rd September 1914 and he spent seven weeks as a prisoner of war on board the German supply ship CREFELD before being put ashore in Tenerife in late October. He commented in particular on their very considerate treatment by the Germans.
From the Mid Ulster Mail dated 14th November 1914: Lisnamorrow Engineer's Experience
Mr F W Forbes, an Englishman, and a ship's engineering, who has made his home at Lisnamorrow, of which district his wife is a native, has just returned after experiencing for seven weeks the hospitality of a German prison ship. He has given the following interesting account of his adventures to our representative:-
'Our Ship was S.S. Maple Branch of Sunderland outward bound from Liverpool on 20th august, with a general cargo for South America. Portion of the cargo consisted of very valuable animals, prize stock for Chile, which we were to have landed at Valparaiso. There were six bulls, on weighed 1½ tonnes and cost £800 in Liverpool, 40 prize rams, 400 prize fowl, turkeys, guinea fowl, silver pheasants, rabbits and canaries. We sighted nothing during the first thirteen days of our voyage, and this mind you, in spite of the fact that our Admiralty assures us that the route is very well patrolled and protected by British cruisers. About dawn on the fourteenth day (3rd September) we sighted a cruiser on the horizon. We knew it to be a cruiser, though we could not make out her ensign in the faint light. She at once signalled us to 'heave to', which we did, and it was only when she came up close that we saw that we had fallen into the hands of the German cruiser Karlsruhe. The commander of the Karlsruhe then signalled that he was sending off a boat with officers and a boarding party, and a few minutes later these came aboard the Maple Branch.
The German officer apologised to our captain for having to stop us and deprive us of our cargo. He instructed us to pack up all our personal belongings, as we were about to be transferred to the North German Lloyd Steamship Crefeld, which had meantime come astern of the cruiser, and which was evidently in attendance of the latter. Having examined our papers, he signalled to the cruiser the nature of our cargo, and the cruiser replied that all livestock was to immediately slaughtered. Our man in charge of the animals was asked to do the killing, for which the German officer said he would be paid, but he had not the heart to tackle the job. Five men were sent off from the cruiser to do the butchering, bringing along a 'humane killer', a pole-axe, and some hand hammers. None of them had any experience of slaughtering, and a more sickening sight I never hope to witness than that. As I remarked to the officer in charge, it was the bloodiest day's work the Karlsruhe had ever done.
From 7am to 3pm the slaughter went on, the butchers were soaking in blood, and the ship was swimming with it. Meanwhile, in obedience of orders, we were steaming at seven knots in the wake of the cruiser, which was steering a course off the beaten track so as to avoid a British man-o-war, no doubt. At 3pm we were signalled to stop and to swing out our lifeboats. These were filled with the ships stores, and a cutter was sent to tow them to the cruiser. Several trips were made in this way, and when all our stores, the live canaries, the live rabbits and three cases of typewriters had been transferred to the cruiser, our Chinese firemen and our English sailors were towed across to the Crefeld. As a compliment to us, the officers and engineers, the cruiser then sent her own cutter to take us off. We were received on board the Crefeld by the commander, who said he was pleased to welcome us to his ship, but he was extremely sorry at the circumstances of our reception. At that moment the commander of the cruiser was signalled that he was to treat us as well as was possible in the circumstances according to rank and as first class passengers. We were then made to sign our parole that we would not take up arms against Germany or Austria-Hungary.
I may say here that the treatment and the courtesy we received at the hands of the officers of the Crefeld was everything that we could have wished. We were berthed in first class cabins amidships, dined with the officers in the saloon, and made to feel our position as little as possible. I do not care what German soldiers may be doing on the continent, I must say that German officers, both of the navy and merchant service, are considerate, courteous, and gentlemanly. It was not their fault that during the last month of our sojourn on board we had scarcely anything to eat but bread and butter. As fresh crews of other captured ships were added daily to our company, the stores gradually gave out, and the diet was pretty Spartan during the last month. It was probably to spare our feelings that we were not allowed to see our ship sunk. Whether she was scuttled or blown up with dynamite we could not say, but later, when we were permitted to see others sunk, we saw that this was accomplished by putting a charge of dynamite aft and another forward. These would blow great vents in the ship's sides, and few of them took more than half an hour to go down.
I have a little pocket diary that I kept, but before giving you a few extracts from it let me say that it was evident to us that the Karlsruhe was constantly kept supplied with wireless information as to the movements of all vessels in that part of the south Atlantic. She knew exactly where on the track would meet a ship, what that ship carried, and where her destination was, and she also knew when to clear away from the route for a few hours so as to avoid British cruisers. She was able to inform our ship, Crefeld, that the British ships, Monmouth, Good Hope and Glasgow, had passed through the Straits of Magellan on the day they did. Just think of it! There we were for seven weeks, right in the beaten track, with often as many as six ships lying around the cruiser, and not a sign of a British cruiser in all that time. The Karlsruhe would leave us sometimes for days at a time and we would dodge about and 'heave to' at night. Then some morning we would get up to find the cruiser lying alongside as usual. We soon learned that on these occasions, the Karlsruhe was replenishing her bunkers, but from where or how we never learned.
On 5th September, our third day on board, we were laying 'heave to' with the cruiser over the horizon scouting. When she returned she was followed by the Hamburg steamer, Ascunction, which transferred eleven men of the crew of the Strathroy, a British coal boat, which had been captured on 31st August. A prize crew had been put on the Strathroy and she was only sent to the bottom when all her cargo of coal had been used up by the cruiser. This was on 28th September. By this time the cruiser had Rio Negro as well as the Ascunction assisting as scouts. On 14th September we came up with the Highland Hope, of the Nelson line, out from the River Plate with meat. She followed the others to the bottom after the crew had joined us on the Crefeld. The next was the Indians, coal laden, which was kept going with a prize crew. On the 21st the S. S. Marie from Portland, Oregon, bound for Belfast with a cargo of grain, was met with and sunk, and while the wreckers were busy, the cruiser sighted another vessel on the horizon and made in her direction. We followed and on coming up found the Cornish City hove up. This was the first ship we were permitted to see sunk. On 22nd September the Iquassu was sunk and on 5th October the S.S. Farn, coal laden from Barry, had her crew transferred and a prize crew put on board to keep her going. We now resembled a small fleet. On 6th October, at night, we came up on a steamer from Buenos Aires laden with fodder and motor cars for our troops in France. Of course she was sent to the bottom, and while her crew were being towed off to us through the darkness, we struck up 'It's a long way to Tipperary', and at the sound of our English voices the men sent up a cheer. They did not expect to find friends on a German prisoner ship. The S.S. Lynrowan was the next to go, and from her we received the first ladies – the captain's wife and a lady passenger. On the 8th it was the Cevantes and on the 9th the Pruth. On the 11th the cruiser made perhaps her most important capture. It almost looked as if this ship, the Condor, had been purposely sent by the agents to be captured, though of course the crew did not know of this. Four of these were Germans who were taken aboard the cruiser and not sent with the rest to the Crefeld. The capture as effected in this way. The Farn was out on scout and sighting the Condor signalled to her to come closer as she wanted to speak to her. The condor replied. The Farn had run up the British ensign and signalled that her engine had broken down and asked the Condor to stand by while they did their repairs. This was merely a ruse to give the cruiser time to get up. When she did so the Condor was found to have on board a cargo of tinned provisions, oil and dynamite, everything, in fact, that the cruiser stood in need of.
They were still transferring this cargo from the Condor when the Crefeld was ordered to proceed with her prisoners, now 419 in number, to Tenerife. Her commander had orders that on no account were he to put into Tenerife before Thursday 22nd October. When we eventfully reached that port we discovered that that was the only day for a fortnight that the approaches had not been guarded by a British cruiser. In passing a small coastal steamer which dipped its ensign to the Crefeld, the commander of the latter, fearing his presence would be reported before he could gain the safety of territorial waters, hoisted the Spanish ensign to return the salute. For this act the authorities at Tenerife fined him £100 and will detain the vessel during the war.
The British Consul had his hands full in providing accommodations for us, which he did at the best hotels. On Sunday 1st November, 100 of us sailed for Liverpool on the Androiuha, and on our way we had slight revenge on our enemies. A Hamburg sailing vessel that had been so long out of port that they had never heard of the war, asked us for the correct time and informed us that she was bound for Falmouth. We did not enlighten them as to the war, but instead our commander sent out a wireless to any cruisers in the vicinity informing them of the whereabouts of the sailor. She was captured as a result of this and towed into Queenstown a few days later.
Questioned as to the attitude of the German sailors towards the war, and as to their hopes of victory, Mr Forbes said that neither the officers nor the crew of the Crefeld hand any heart in the business. The commander of the Crefeld was positively sick of the sight of the destruction of so much valuable shipping, and he was constantly apologising to them and bemoaning the fact that his ship had degenerated to the position of prison ship. The general opinion of the crew was that it mattered little to them whether Germany won or lost. As for the naval officers, one of them once stated that the Karlsruhe was not out to fight, but to destroy commerce and then run away. In this officer's opinion, British gunners were superior to German.
Speaking of how they passed their time when their captors were not giving them exhibitions of ship sinking, Mr Forbes told of some exciting shark fishing at night. 'You know' he explained 'the seamen regard the shark as his bitterest enemy and every man aboard, from the captain to the cabin boy, will turn out to see a shark done in'.
Concluding, Mr Forbes hoped that no matter how much of his tory the writer might omit, on no account was he to fail to record the gratitude of himself and his fellow prisoners to their German captors, who throughout the seven weeks treated them as brothers. When the Crefeld was parting from the Karlsruhe, bringing them to Tenerife, the cruiser had dipped her ensign and flew a signal wishing them a good and safe journey home.
From the Mid Ulster Mail dated 21st November 1914:
Mr F W Forbes, whose interesting story of detention on a German prison ship appeared in our columns last week, is himself as interesting a personality as the incidents he there related. Born in North Shields, England, he graduated from school to an apprenticeship on the well-known engineering firm of Armstrong, Whitworth & Co. during the first years of his apprenticeship he attended evening classes and perfected himself in the theoretical and mathematical sides of his profession; and at an age when most young men are frittering away their leisure time in frivolous pleasure Mr Forbes unselfishly devoted himself to serious work of a hazardous character for the benefit of his country and of his fellow man. He became a member of the Volunteer Light Brigade of the Royal Submarine Mining Engineers of which body he was a non-commissioned officer when its duties were taken over by the Admiralty. Being an apprentice with a firm whose chief products were for the government, he had no difficulty in getting off for his fortnight's training twice a year. At the time of naval manoeuvres his Tyne Division of R.S.M. Engineers were usually entrusted with the defences of the Tyne and of Portland Harbour at the later manoeuvres. The work of this body is now done by the navy, but just before being disbanded, the Tyne Volunteers laid the last submarine mine in Gosport Harbour. After disbandment the battalion was reformed under the title Tyne volunteer Electrical Engineers, every member of which was a practical mechanic, and of which Mr Forbes also became an important unit. As a member of the new body, he took part in all manoeuvres, his body being entrusted with the running of the engines, dynamos and searchlights in connection with harbour defences. His section was so trustworthy and efficient that it was sent all over the Kingdom, and one occasion upon which they were charged with the defence of the port of London, Mr Forbes and his colleagues were highly complimented by the Divisional Commander-in-chief. One would imagine that a young apprentice would have found such responsible work ample to employ his energies outside his ordinary occupation, but not so Mr Forbes. He was at the same time an active member of the Tynemouth Volunteer Life Brigade; and during his three or four years membership he took part in many thrilling rescues from ships which had come to grief at the (at that time) treacherous entrance to the Tyne. This purely voluntary corps of unselfish and brave men numbered one hundred and twenty and were divided into three sections. On the dark and stormy nights of winter when many a good ship ends her voyaging on the giant tees of our rock-bound coast, these volunteers took it in turn to keep watch and ward on their wind swept coast, so that, with line and lifebelt and oft times at the risk of their own lives, they might snatch from a watery grave any unfortunate mariners in danger of perishing through shipwreck. A hard day's work in an engineering shop with frequent sleepless nights on a wave tossed shore left little time for reading, yet Mr Forbes contrived at the same time to study and obtain the certificate of the Royal Army Medical Corps, and the first, second and third certificates of St John's Ambulance Association – the latter carrying with it the Association's medallion. And in his spare time – think off it! – his spare time – he qualified for the freedom of the Newcastle swimming guild, played football and took part in cycling, running and other athletic contests. At least on two occasions he had reason to be thankful for his abilities as a swimmer. Mr Forbes had just come out from a bathe in Tynemouth Haven and when fully dressed observed one of a group of romping youngsters fall into the water. Without a moment's hesitation he plunged in and though greatly impeded by his clothing, succeeded in bringing the child ashore, none the worse of its immersion. With a whimsical smile when relating the incident, Mr Forbes will add. 'Fortunately none of the youngsters knew me and so nobody was able to make a fuss about it.' The other occasion was when engaged in the work of mine-laying. He accidently fell overboard between the fast moving ship and the shore. Swimming quickly towards the piles of the jetty, he clung there for a few minutes and then turned and swam to meet the boat put off to rescue him.
He began his career as a ship's engineer on the Buckshall line of steamers in 1901. This was during the South African War, and his first voyage was to South Africa with stores for the troops, and before the end of the war he had made four similar voyages. Since then he has been with various steamship companies and has put into almost every port of the world, during which time he qualified and obtained his various certificates. He passed the Board of Trade's examination for the Chief Engineer's Certificate in 1905. Save the sinking of his ship Maple Branch by the Karlsruhe, his most exciting experience at sea was a fire which broke out in the coal bunkers of his ship. The chief engineer, on going down to ascertain the extent of the fire, was immediately suffocated and Mr Forbes, with his characteristic disregard for danger, at once went to his rescue without taking the precaution to ensure his own safe return by tying a rope around him. He had not reached his chief when he was overcome by the fumes and was only rescued when he was on the point of suffocation. Mr Forbes' whole life has been one long chapter of adventures, nor has it been wanting in romance. It was while voyaging in New York to re-join his ship, then Miss Nedwell, who comes from a well-known South Derry family, long resident in Lisnamorrow. Miss Nedwell was also journeying to America on a visit to friends and the acquaintance begun on board and had its consummation in the Woods Parish Church five years ago when Miss Nedwell became Mrs Forbes. Two handsome children in the Lisnamorrow home, who are too young to understand international complications, express their unspoken thanks in every romp and frolic to the Karlsruhe, which as given them daddy to play much sooner than they expected him, and which has allowed him a much longer time to play than formerly.
The Imperial War Museum have letters to his wife covering family news and his activities during this voyage up to the ship's arrival at Newport News (December 1917 – March 1918); and two telegrams and two letters of condolence sent to his widow (April – May 1918) relating to the torpedoing and sinking of the Myrtle Branch.
Myrtle Branch was sunk on 11th April 1918 by a torpedo fired by German submarine UB-73 approximately nine nautical miles North-East by North of Inistrahull, County Donegal. The ship was en route from Coronel and Newport News to Liverpool with a general cargo and mineral ores.
Chief Engineer Frederick William Forbes, Mercantile Marine, died at sea on 11th April 1918. He was 38 years old. The Imperial War Museum has obtained an account by an officer survivor of the probable circumstances of Fred Forbes' death.
From the Belfast Newsletter dated 25th April 1918: Naval Casualties
Frederick William Forbes, a chief engineer, of Laurel Cottage, Magherafelt, was lost at sea through enemy action on 11th April.
From the Mid Ulster Mail dated 4th May 1918:

FORBES – 11th April, lost at sea through enemy action, Frederick William Forbes, (Chief Engineer), dearly beloved husband of Alice E C Forbes, Laurel Cottage, Magherafelt.
Fred was married to Alice Elizabeth Caroline Forbes, and is believed to have a child, Agnes Forbes, born 1911.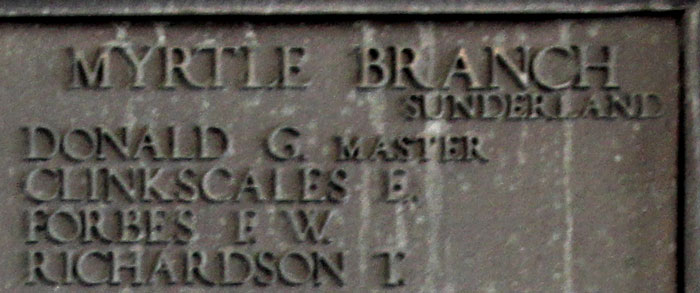 Chief Engineer F W Forbes is commemorated on the Tower Hill Memorial in London.
The CWGC record Frederick William Forbes as the husband of Alice Elizabeth Caroline Forbes, of Laurel Cottage, Magherafelt, Co. Londonderry. It also states that he was born at North Shields.

Relevant Magherafelt Area Locations
No
Location
Region
Location Notes
Longtitude
Latitude
1
Laurel Cottage, Woodschapel
Ballymaguigan
CWGC lists wife at Laurel Cottage, Magherafelt
54.719864
-6.560939
2
Woodschapel Church of Ireland
Ballymaguigan
Listed on Memorial in Church
54.723278
-6.560928